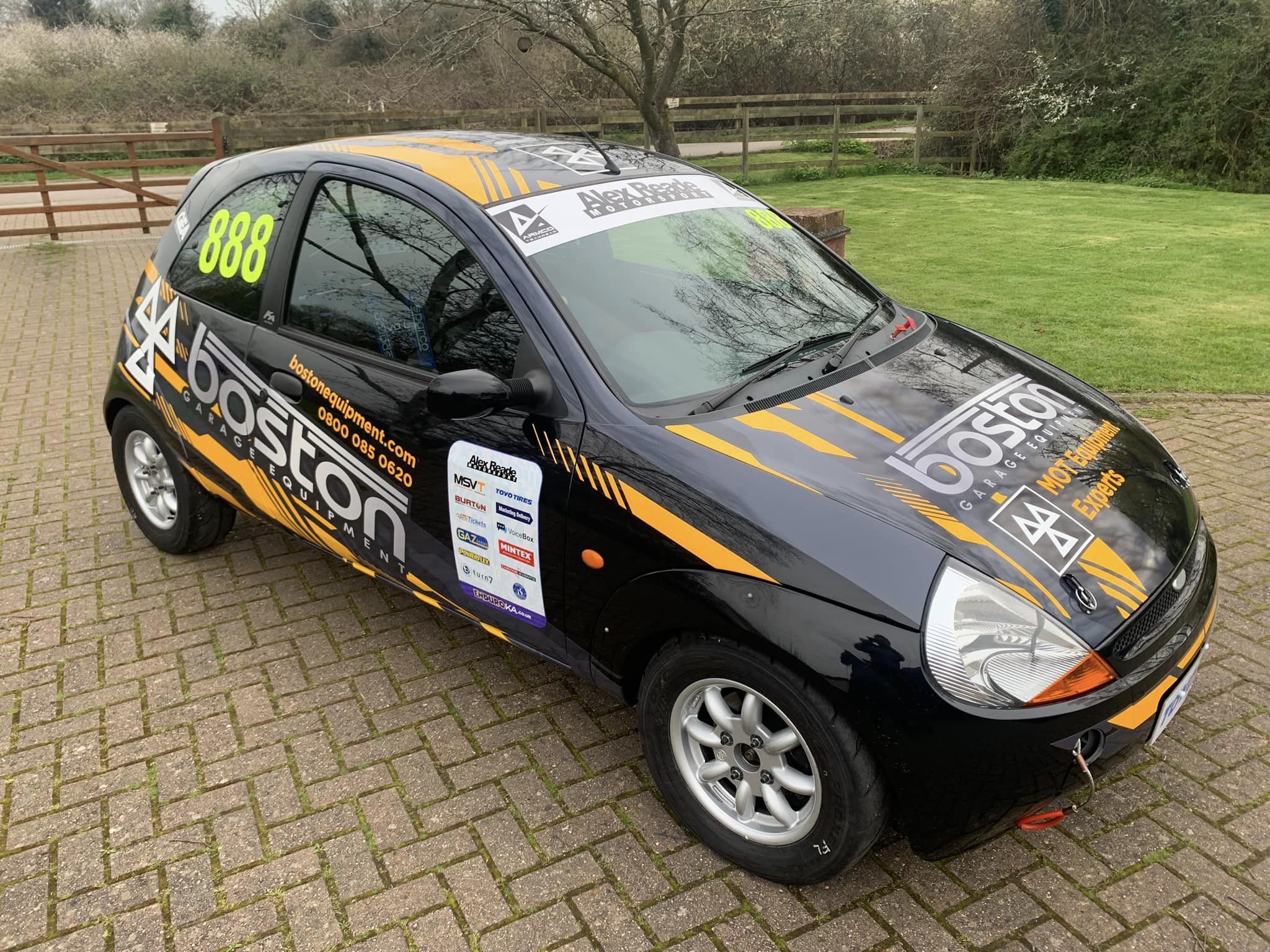 Boston Garage Equipment is sponsoring father and son team Andy and Jacob Fells, who are competing in the 2023 EnduroKA championship alongside third driver and teammate Mark Roberts.
EuduroKA is an endurance race championship originally launched in 2019 with teams all competing in Mk1 1300cc Ford KAs. According to the official EnduroKA website, "the series is designed to exhibit driving excellence and car control in the absence of vehicle and technical development."
The team named "Boston Racing", is led by Andy Fells, Program Manager at Ford Motor Company in Essex. Prior to the first race on Sunday 16th April, we spoke to Andy to find out more about the championship and the team's motivations…
What motivated you and Jacob to race together?
I have loved racing and building cars for as long as I can remember. I started racing in 2000 with a modified Mk2 Fiesta XR2 in the 750MC Hot Hatch championship. After winning the championship in 2004 I moved to the MG X-Power Trophy in an ex-Factory prepared MGZR. In the years that followed, racing became more and more sporadic as family life took over. Now that the kids are grown up the time is right to get back into racing with the added enjoyment of sharing it with them.
My eldest son Jacob has always wanted to race from a very young age. From around 7 years old he had off-road buggies and motor bikes. At 14 he started racing in a Go-Karting Championship (Brentwood Karting) with a number of wins including an All Stars Championship. Now that he's 18 he'll get to experience racing cars for the very first time.
Why did you choose the EnduroKA Series?
The championship is very accessible with cars readily available; it's also an extremely cost-effective way of achieving a significant amount of time in the driving seat which will enable Jacob to hone his racing skills. In comparison, most of my earlier racing was in sprint races of around 15-20 minutes which means he'll gain as much seat time in one race as I did in 5 rounds!
Tell us more about teammate Mark Roberts...
Mark has done many years of racing and was keen to get back into it when offered the chance. He originally started racing in 1995 in the Slick 50 Road Saloons Championship before moving onto the MG X-Power Trophy in an MGF Cup car, winning the championship in 2004.
He's also competed in various endurance races such as the Nürburgring and Mondello Park 24 hour races. More recently he raced a replica of the 1980's Group 1 Datapost Fiesta and was lucky enough to compete in the Gerry Marshall Trophy at the Goodwood Members meeting.
What preparation has gone into the car for the race?
First we purchased a 2008 38k Ford KA from ebay. The number of modifications allowed are limited with the bulk of the installation hardware (suspension, bushes, roll cage etc.) being purchased as a kit from Burton Power Products - one of the championship sponsors.
Jacob and I stripped the car down to a shell and then started work. Most of the time was spent preparing the body shell, carrying out rust repairs and fitting the roll cage. It was a great opportunity to further my welding skills and allow Jacob to learn. The engine and gear box were in great shape so only a freshening was required.
After many hours of rebuild, a partial respray, and application of our Boston decal wrap we were ready to go! We tested the car at Brands Hatch on 3rd April with great results. The car behaved perfectly and Jacob was competitive straight out of the box.
My times were competitive but Jacob was quicker – something I blame on my extra 40kg of body ballast and the increased trepidation that inevitably comes with age… Oh to be 18 and fearless again!
When and where are you racing?
There are 6 races in the 2023 series. The first one takes place at Silverstone National on Sunday 16th April and the last one is at Brands Hatch Indy in October. The full race listings can be found on the EnduroKA Kalendar page.
Where to find 'Boston Racing' team updates and results?
Keep an eye on Boston's Facebook Page for more photos and to see how the team get on in the championship.
Good luck to Andy, Jacob and Mark. We'll be cheering you all on throughout the series!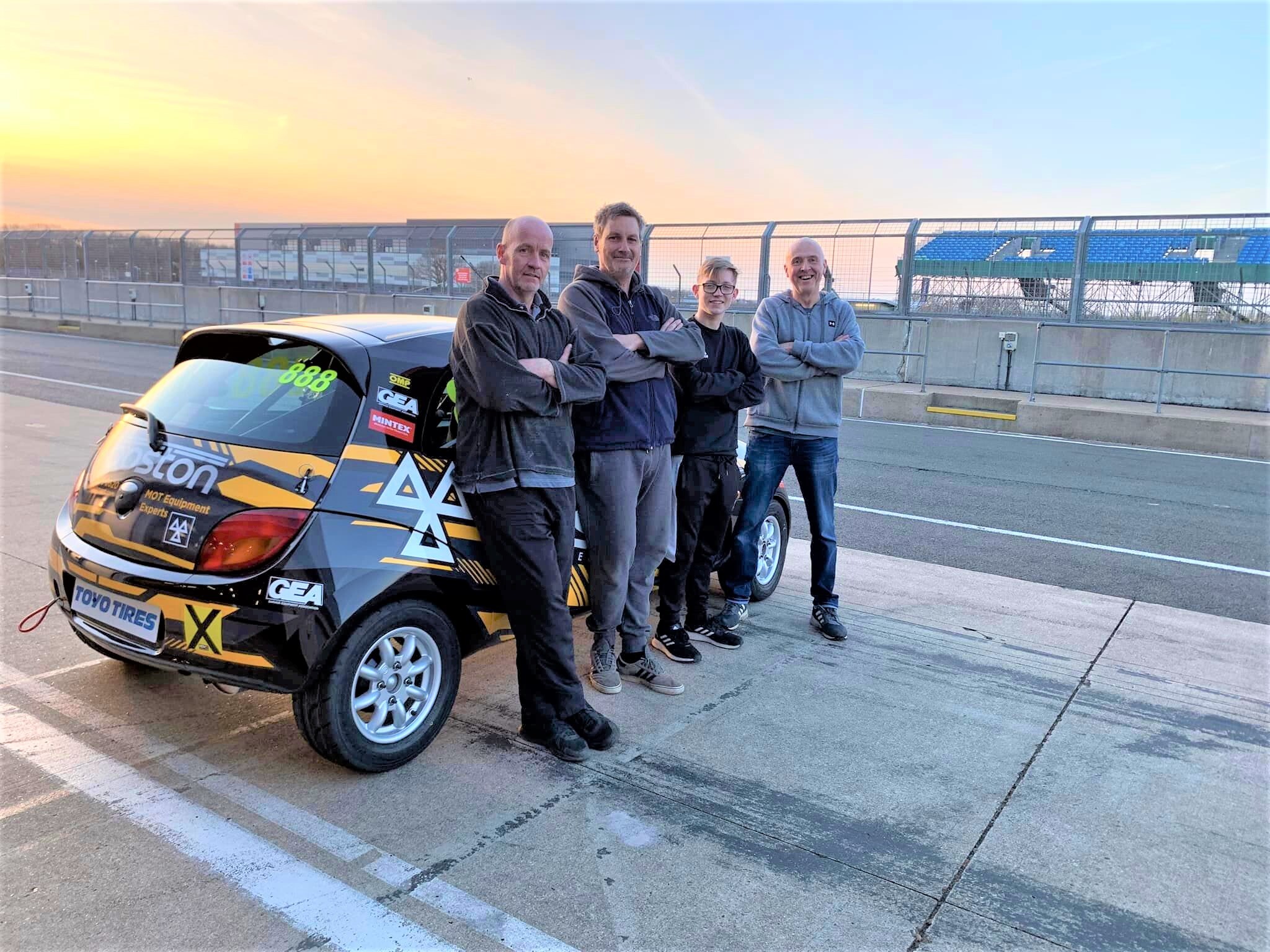 From left to right: Chris Holland (Pit Crew), Andy Fells, Jacob Fells, Mark Roberts.