Photo: MOT Connected Equipment testing carried out at The Test Centre Training site in Dartford in early 2019. Left to Right: Ian Marsh (DVSA), Brad Calcutt and Ross Tabor (Boston Garage Equipment)
New Standards for MOT Stations to be Introduced in October 2019
The DVSA has confirmed MOT Connected Equipment will be introduced from 1st October 2019.
The new regulations which currently concern roller brake testers will apply to new MOT site applications and garages replacing their existing RBT models.
Over the last year the government department has been working with a small number of manufacturers, including Boston Garage Equipment, on a pilot scheme.
What is Connected MOT Equipment?
Connected MOT Equipment, sometimes described as Linked Test Lanes, refers to equipment that can be hooked-up directly to the DVSA's cloud-based MOT Test System (MTS).
This means that test results from items such as roller brake testers, smoke meters or gas analysers can be automatically transferred to the DVSA's system without the need for manual data entry.
Which MOT Test Equipment is in Scope?
The DVSA ultimately plans to link all digital equipment that records MOT test results to their own system. They have been working with manufacturers in a phased approach:
Roller Brake Testers (RBTs) - These were the first items to be trialled and we're pleased to announce that Boston's complete range of Class 4 & Class 7 brake testers are approved by the DVSA as MOT Connected Equipment.
Emissions Equipment – After RBTs, the pilot scheme was extended to exhaust gas analysers and smoke meters. ARTICLE UPDATE: As of 30/09/2019, Boston emissions equipment is connected approved by the DVSA.
Headlight Testers – The pilot scheme has not yet been extended by the DVSA to headlamp aim equipment but as the UK's leading manufacturer and supplier of MOT equipment, Boston is already working on a compatible product.
Decelerometers – Once again we are already working on a compatible product. ARTICLE UPDATE: As of 07/10/2019, the Boston DC-7500 decelerometer is connected approved by the DVSA.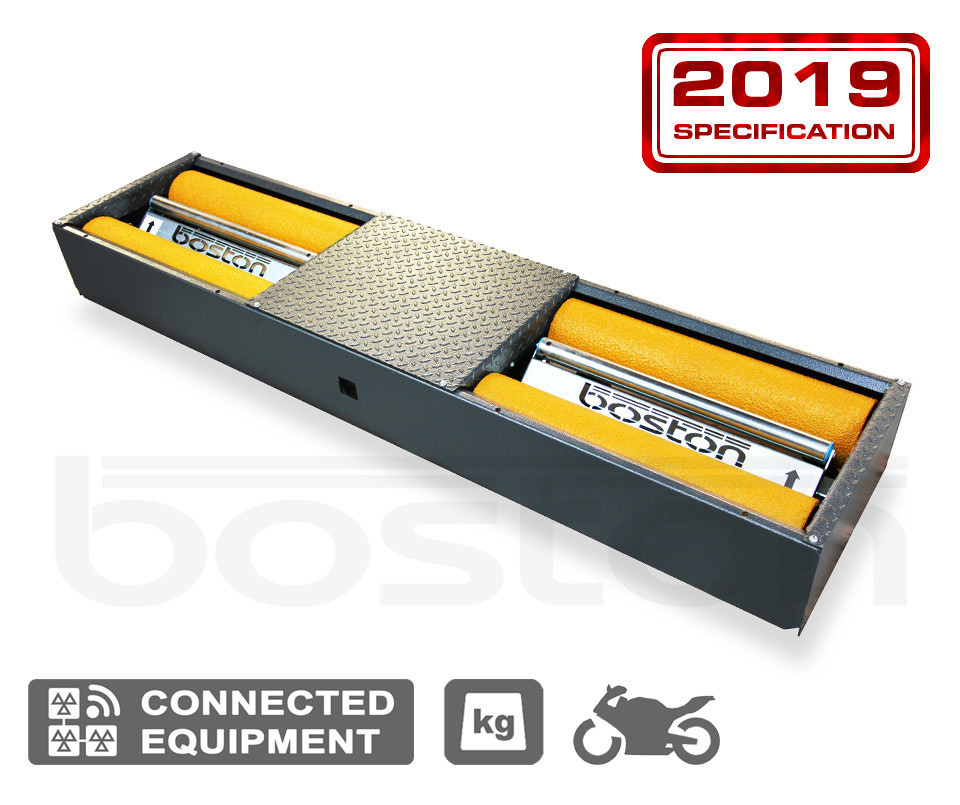 How Does Connected Equipment Work?
Connected MOT Test Equipment needs to communicate with the MOT Testing System (MTS). This means it must be capable of:
receiving test and vehicle information from the MTS
transmitting test results to the MTS System
As specified by the DVSA, all data must be transferred in the form of a JSON file via a secure Application Programming Interface (API).
Boston's solution to connecting our equipment with the MOT Test System is a background software program called TestWatcher.
After each official vehicle inspection, the test equipment software creates a test results data file in a target location monitored by TestWatcher. TestWatcher then picks up the file and uploads the data directly to the MTS.
TestWatcher also monitors the internet connection and its connection to the MTS. Any errors are notified to the user and failed uploads are automatically reattempted in the background meaning that information is never lost.
What Are The Benefits of Connected Test Lanes?
Connecting MOT equipment to the DVSA's system will benefit Vehicle Testing Stations (VTSs) in a number of ways:
Makes MOT Testing faster and simpler – The current system requires MOT Testers to record brake test, emissions, and headlamp aim results and then enter them manually into the MOT System, often on a separate computer. This is both time-consuming and a potential source of errors. With Connected Equipment the results will be transferred automatically with no need for any action from the tester.
Reduces pass / fail errors – For linked MOT test equipment, the DVSA's system will be able to make the pass/fail decision based on the data that has been received. This will remove any ambiguity the tester may face, reduce the chance of errors (and potentially a negative risk rating) and help the DVSA to combat MOT fraud which is beneficial to the industry as a whole.
Removes unnecessary paperwork – Once equipment is connected to the DVSA's system, there could be no requirement for MOT Stations to keep the results print-outs from each test. Instead, all results could be stored online.
Saves money on equipment updates – With linked MOT equipment, the DVSA could be able to update testing criteria automatically meaning garages could no longer need to pay for updates to this equipment.
Reduces MOT Fraud – Connected Equipment will make it harder for dishonest testers and MOT Stations to cheat the system. This will benefit not only the thousands of hard-working, honest businesses out there but also the general public the MOT system helps to keep safe.
When is Connected MOT Equipment Going to be Introduced?
Connected Equipment is a big change for the industry and one thing is clear, the DVSA is not going to make it compulsory for existing Vehicle Testing Stations, with equipment already in use, anytime soon.
However, from 1st October 2019 MOT stations making a site application or replacing an old brake tester will have to purchase Connected Equipment.
Following this there will be a phased approach for emissions equipment, beam setters and decelerometers.
ARTICLE UPDATE: A DVSA email bulletin sent on 01/11/2019 confirmed the following timelines for the introduction of other items of connected equipment:
Decelerometers - 1st February 2020
Diesel Smoke Meters - Late spring 2020
Exhaust Gas Analysers - Late spring 2020
Headlamp Aligners - Summer 2020
At some point in the future the DVSA will need to make Connected Equipment compulsory for all testing stations but this is likely to be some way off.
What Does This Mean For Your MOT Station?
If you're considering setting up a new MOT Station you need to make sure the equipment you select is approved or will be soon be approved by the DVSA according to the new specifications.
In particular, you should be extremely wary of any standalone non-PC based test equipment as, should the regulations be extended to existing stations, it's unlikely this equipment could be upgraded.
Boston Garage Equipment has worked with the DVSA on this project since the government body announced their plans to connect MOT equipment. This has given us the time to thoroughly test our solution and ensure our products meet the regulations as they are introduced.
If you have any doubts about the equipment you are considering and you would like independent advice, you should always speak to the Garage Equipment Association (GEA).
The GEA has been on board with this project from the start; they know which manufacturers are or will be compliant as the DVSA introduces these changes and will be keeping the list of all approved connected equipment on their website.
Boston Garage Equipment, The MOT Equipment Specialists
With over 35 years' experience, Boston specialises in complete MOT Test Lanes and our technical team will provide you with honest, expert advice.
If you would like to know more about Connected MOT Equipment, give us a call on 01708 525585 or contact us via our enquiry form. We'll be only too happy to help.