Effective 1st February 2020, the DVSA have extended connected MOT equipment rules to include decelerometers.
Decelerometers are the latest items of MOT test equipment to come under new DVSA rules which require test results to be sent directly to the MOT Testing Service (MTS).
The rollout follows the regulations already introduced for connected roller brake testers in October 2019 and, as expected, not all MOT stations will require a new connectable model.
So, who do the new rules apply to?
The DVSA have confirmed that a connected approved decelerometer is a requirement for anyone:
Opening a new MOT station
Reopening a closed MOT station (regardless of how long it's been closed)
Making a change of ownership of a currently operating MOT centre (where it moves from one authorised examiner (AE) to another)
Replacing an existing decelerometer
These rules apply to MOT classes 4, 5 and 7 only.
Who do the rules not apply to?
As further clarification, the DVSA stated that MOT stations do not need to buy a new decelerometer if:
They're only making a change to an existing AE (for example, where a new partner is added and the same AE number is kept).
The application was received by DVSA before 1 February 2020 – any decelerometer that was approved at the point of application can be purchased.
They're only testing classes 1,2 and 3 – There is currently no obligation to have connected MOT equipment for motorcycle or three-wheeled vehicle testing.
How do you connect a decelerometer to the MTS?
An electronic 'key', also referred to as a software code, is required from the DVSA. AEs should request the code from the DVSA by email at least 14 days prior to the equipment being set up in order to ensure it's received in time.
Full details of how to request the software code can be found in the DVSA's MOT Special Notice 01-20: Connected Decelerometers.
In addition to the code, the device purchased must be connected approved with software from the manufacturer that supports the transfer of brake test results to the MTS. A full list of approved equipment can be found on the GEA's website.
Boston's DC-7500 Fully Wireless Decelerometer
Boston's DC-7500 is a connected approved, fully wireless portable brake tester that measures service and parking brake efficiency. Test results are automatically transferred to the control PC via Bluetooth once the device is within range, and data is then seamlessly uploaded to the MOT Testing Service.
At the forefront of industry changes, the DC-7500 is part of Boston's Connected MOT Equipment range of products which includes roller brake testers, emissions equipment (all approved) and headlamp aim testers (approval pending DVSA specifications).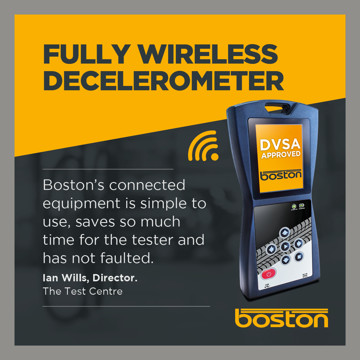 Have a question?
With over 35 years' industry experience, Boston has the knowledge and expertise to advise you on all your MOT and connected equipment requirements.
If you'd like to know more about connected equipment regulations and how they affect your business, give us a call on 01708 525585, or send us a message.