In May 2018 changes to the MOT test introduced stricter rules regarding emissions testing.
These changes included a tougher stance on tailpipe emissions, the engine management warning light and the diesel particulate filter (DPF).
One year on, the impact of these more rigorous regulations has been analysed by Autocar magazine in their 15 May 2019 edition.
The article includes commentary from Neil Barlow, Head of MOT policy at the Driver and Vehicle Standards Agency (DVSA), and John Bull, Managing Director of Motest – a 21-strong network of vehicle testing stations that carries out around 85,000 MOT Tests each year.
Motest has been a Boston Garage Equipment customer since 2006 and photos of our equipment installed in their Aldershot site are featured in the article.
(For information, the garage equipment featured in the article is our 4 Post Lift - B441 4T with 4.65m platform, and our combined Gas Analyser and Smoke Meter package)
To save you time, we've summarised the main findings of the Autocar report for you below.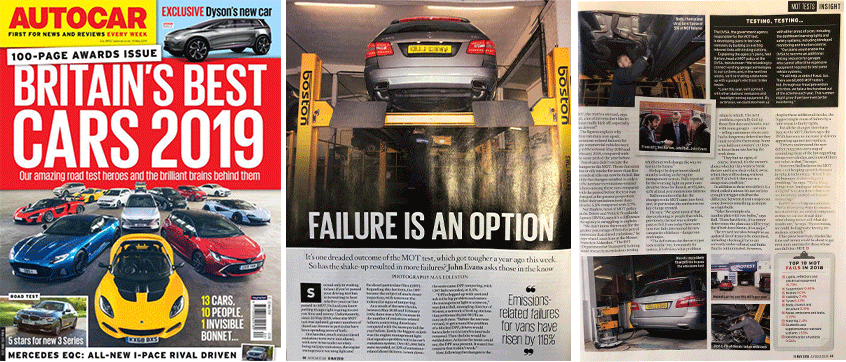 Impact on Diesel Car & Van Emissions Test Results
Emissions-related failures increased by 63% for diesel cars, and 116% for Light Commercial Vehicles (LGVs) between May 2018 and February 2019 compared to the same period the year before.
Out of these failures, the largest single cause was the engine management warning light being on. More than 83,000 diesel vehicles failed for this reason which represents 32% of all diesel emissions-related failures during this time period.
Despite all the noise concerning DPF tampering, the DVSA recorded just 1,397 failures for this item representing a mere 0.5% of diesel emissions failures.
Impact on Petrol Car Emissions Test Results
In comparison to diesel vehicles, petrol vehicles didn't see such a large rise in emissions-related failures during the same period – the increase was just 5.9%.
However, proportionally far more petrol cars failed their emissions test than diesel vehicles when compared to the year prior to the new testing rules – 5.5% compared to 2.2%.
Once again, the engine management warning light was a main cause with a staggering 257,601 failures representing a huge 43% of all petrol vehicle emissions-related failures.
Appeals Against MOT Test Verdicts
Despite the changes to the MOT and the increase in emissions test failures, DVSA's Neil Barlow pointed out that they haven't seen an increase in motorists appealing against a failed test.
Future DVSA plans for the MOT Test
In the article, John Bull – MD at Motest, stated that "the MOT test is not keeping up with changes in vehicle technology" echoing the thoughts of many in the industry.
In response, Neil Barlow explained that the DVSA plans to connect test stations to their central computers for real-time test results and added that they will be "trialling a data hook-up with a garage's electronic brake tester'' before the end of May 2019.
Following this, they will connect with other Vehicle Testing Stations' emissions and headlamp beam setter equipment. In the future they also hope to extend this to other areas of a car such as warning lights and safety systems.
According to Neil, the goal is for the DVSA to be "an additional testing resource for garages who cannot afford the expensive equipment required to test some vehicle systems."
Neil also commented that it will help protect against fraud through better monitoring of the MOT system.
Boston's Reaction to the Article
Boston Garage Equipment Sales Manager, Ross Tabor, commented on the article saying:
The statistics show that the changes to the emissions test are already helping to remove or clean up the most polluting vehicles on the road which can only be regarded as beneficial for our towns and cities.

Regarding the plans the DVSA has for the future, we strongly believe that any changes the DVSA makes to modernise the testing process will be beneficial for MOT stations.

Connecting the DVSA's computers to MOT equipment has huge potential to improve the system for MOT Testers and we look forward to further announcements on this from the DVSA.

Trusted MOT Testing Equipment & Expert Advice
Over 4,000 UK workshops and MOT Test Stations use and trust our garage equipment. If you're looking to set up a Vehicle Testing Station, we have a complete product range for Classes 1-4, and Class 7 testing.
You'll find lots of useful information including MOT layout sample plans (download for free) on our MOT Test Lanes page. These plans illustrate the most common MOT bay configurations.
For more information you can contact us via our enquiry form or call us on 01708 525585.